"Work hard, play hard!" has always been the motto of our TNC Family, and that's also why the Admin Team organized countless OOODays to entertain our programmers in the past. But no matter what kinds of fun activities we held, karting or bowling or karaoke, there is this one magic word that 99% of people cannot resist – FOOD!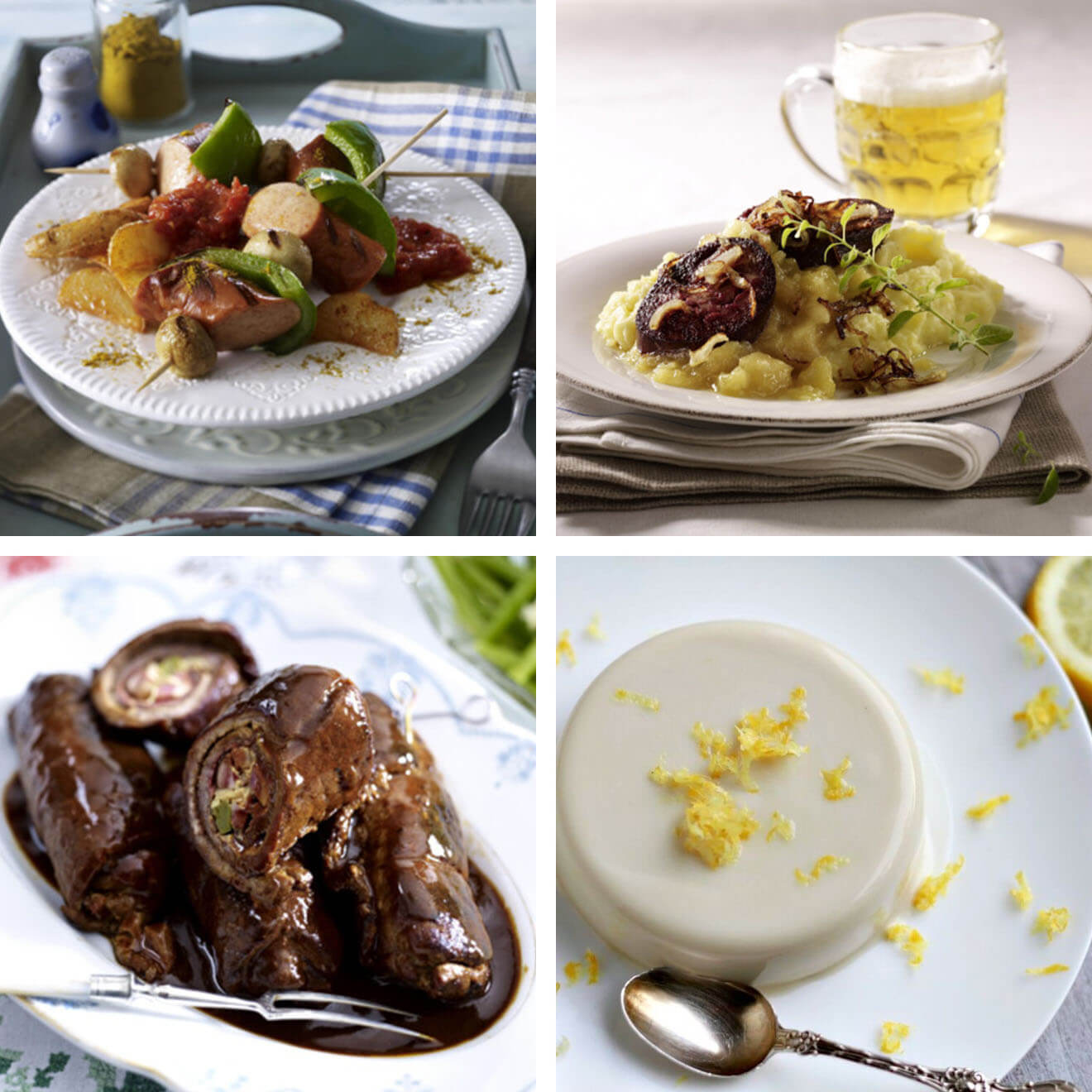 With our TNC Motto upgraded to "Play hard, eat hard!", we finally initiated the first Food-themed Day in the kitchen on March 16th. As you can see from the above pictures, there are four new dishes which our chefs are determined to nail: Curry Sausage & Vegetable Skewer, Heaven & Earth, Beef Roulades with Green Beans and Lemon & Coconut Pudding. Don't they look Yum!?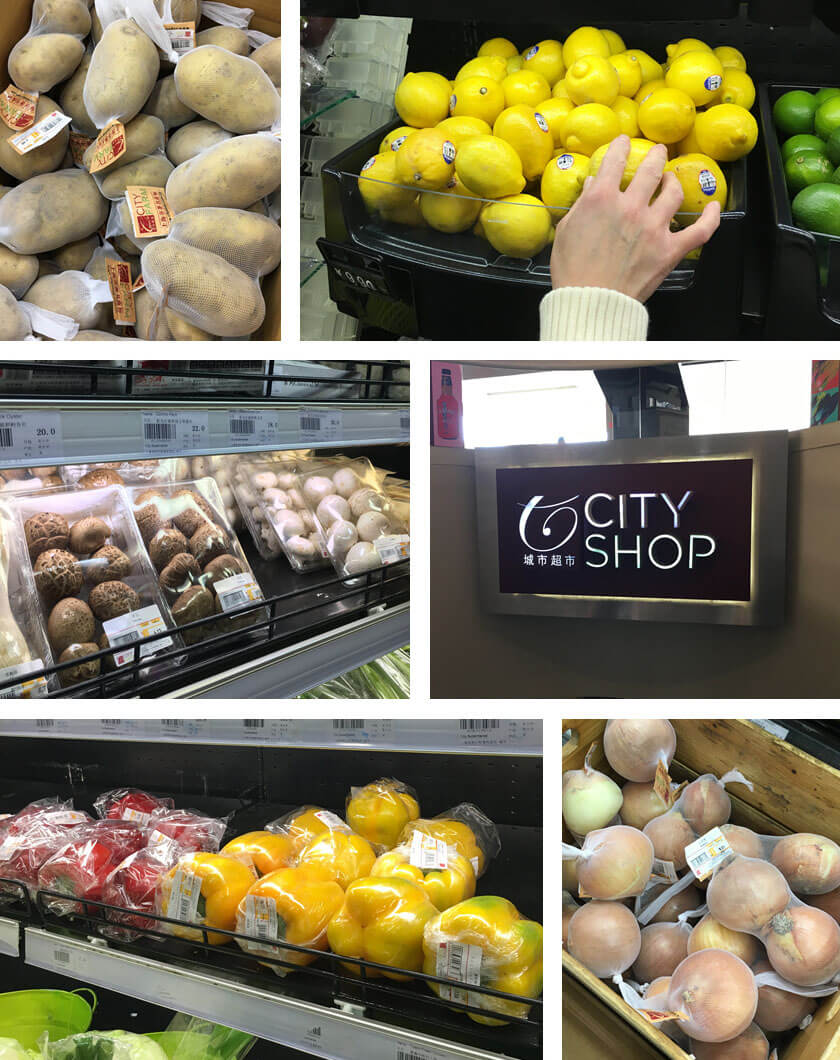 As the saying goes, well begun is half done. Just 3 days before the actual Food Day, Xiaohong took me to the City Shop for some extra materials shopping. What can I say, we may only have 50 mouths to feed, but our fridges have to be fully loaded from time to time! Well, for a spoilt city boy like me, the occasional "grocery shopping" could be fun, but the after-bill heavy liftings are definitely not! Thanks to the new digital age, we got home safely with the help from a super friendly Uber driver. 😉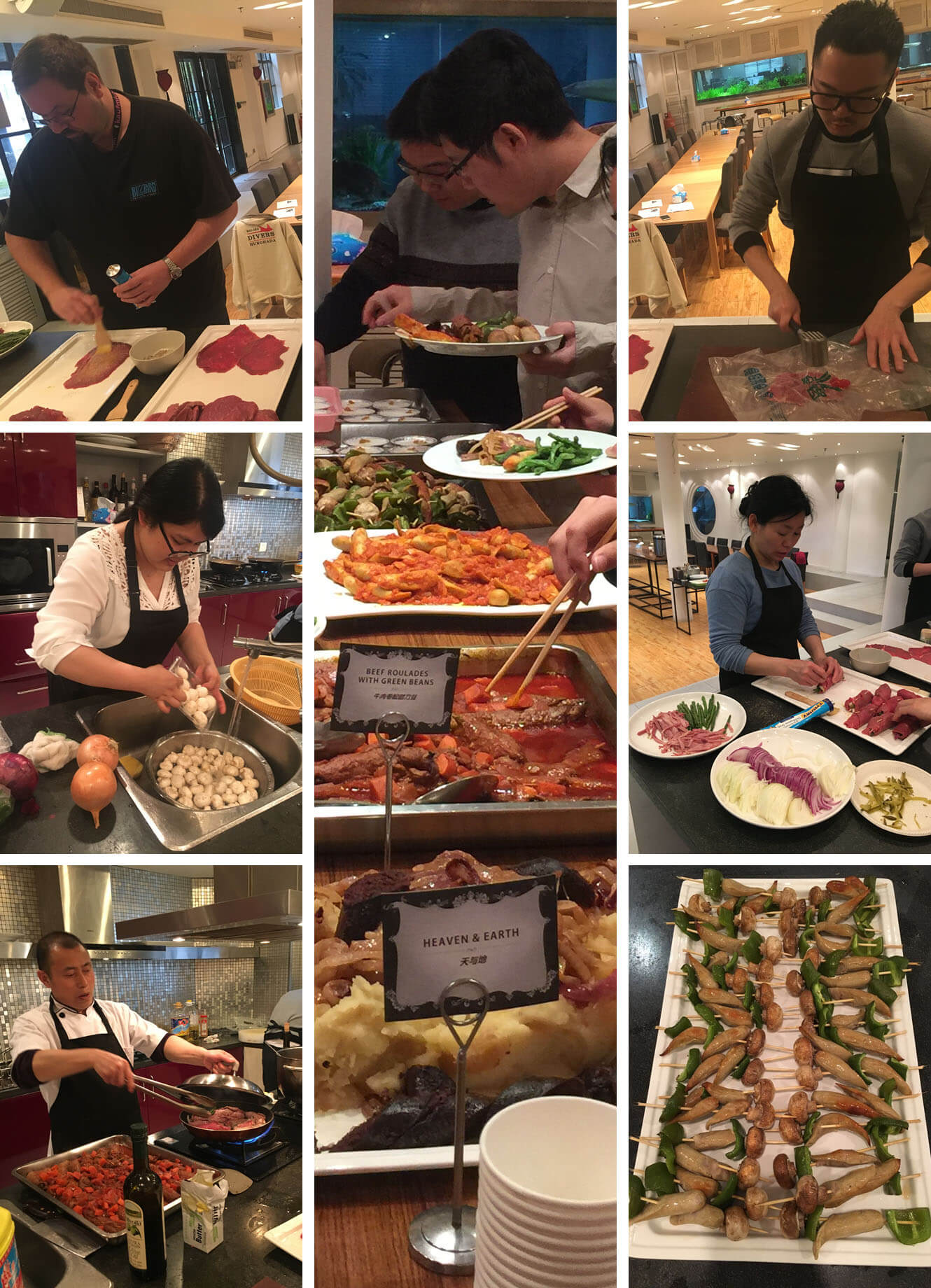 To add an insurance to our first Food Day, we borrowed a hand from Daniel, the hybrid of TNC and SmH (Former employee of one of our Brother Companies). When he walked into the kitchen, he was a bit surprised to see a tube of Mittelscharfer Delikatess Senf on the table, saying that it's the good stuff and actually the key to making great German roulades. No wonder he took over the brush and happily blend in with my Chinese team, lol…

From rinsing to skewering, from hammering to rolling, from braising to roasting, everyone played a good part on the Thursday afternoon. Our chefs shared with us not only their cookers but also the cookery, for example, how to make a dish for 50 people in the fastest way, or how to use the oven to roast the skewers in different stages. It was really eye-opening and I did learn tons!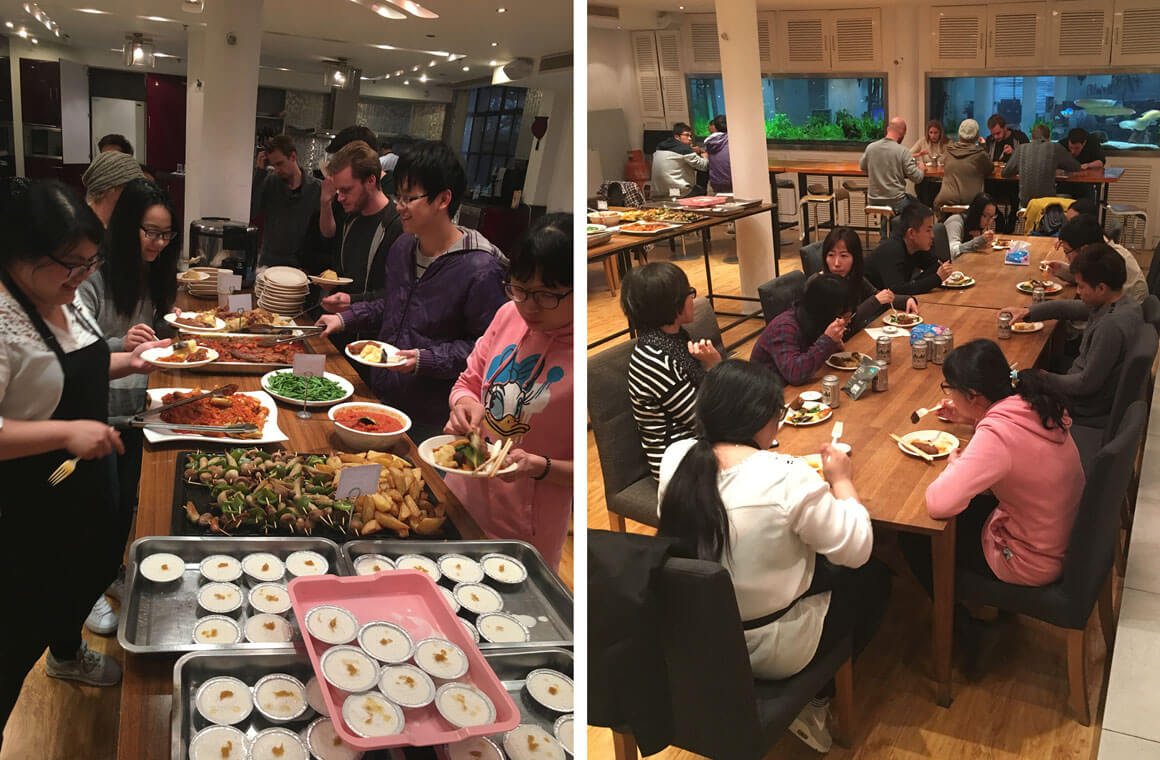 Finally, at 5 p.m. I was honored to do our chefs the favor by shouting "Chi Fan", the one and only spell that would summon everyone to the canteen to perform one act – Eat. Seeing our people queuing for the food and later finding all plates emptied in just half an hour, our chefs smiled, so did my team. It seems to everyone that our chefs are doing one simplest daily job, and yet only when we put our feet in their shoes would we realize that cooking might be just complicated as coding, or even more physically fatiguing…

Last but not least, my special thanks to Carina, who made great suggestions and helped with German to English translations for the ingredients and recipes, and most importantly, to all the fierce volunteers! (Alicia, Beth, Evonne and Daniel)